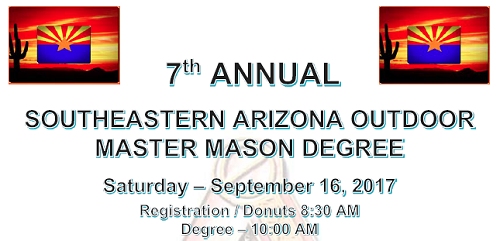 Perfect Ashlar 12, San Pedro Lodge 55 & Willcox 10 are hosting the 7th Annual Southeastern Arizona Outdoor Master Mason Degree at John and Peg Escapule's Ranch in Saint David, Arizona.

- Pre-registration ~ $20.00 (includes John's famous steak lunch)
- Walk-on ~ $25.00 (no guarantee for lunch)
Perfect Ashlar Lodge 12 will be handling the "Degree Team Work Sheet".

Please check our websites for updates and directions.
http://SanPedro55.Com
http://Benson-Arizona.Com/Willcox10
http://Benson-Arizona.Com/PerfectAshlar12

---
7th Annual Southeastern Arizona Outdoor Master Mason Degree
Date: Saturday - September 16, 2017 @ 10 AM
Location: Escapule Ranch - Saint David, Arizona
* 2017 Lodge Dues card required *

Name (please print): _______________________________________________

Address: ________________________________________________________

Phone: ________________________ Email: ___________________________

Lodge Name & Number: ____________________________________________


---

RSVP - Cutoff date for pre-register is Friday - September 8, 2017

Mail completed form & check payable to:
San Pedro Lodge 55
Att: Bob Richards, Secretary
6613 East Via Algardi
Tucson, Arizona 85750

For questions regarding our event please contact Bob Richards.
E-Mail: rc-richards@msn.com
Cell Phone: 520-241-0438
Home Phone: 520-529-2465
---
Directions To The "Escapule Ranch"
(1) 1563 West Patton St, Saint David, AZ 85630

(2) GPS Coordinates: 31.9096974,-110.2672589,14.

(3) I-10 East or West to Benson, Exit 304 (Ocotillo Ave.)

(4) At the bottom of the exit ramp, drive South on Ocotillo Ave across the
railroad tracks to the traffic light.

(5) Turn left at the traffic light onto AZ 80 East, (4th Street) and continue,
through the town of Benson, towards Tombstone / Bisbee / Douglas
(stay in the right lane).

(6) Continue 4.7 mi. to Apache Powder Rd, and turn right (there will be Masonic
signs to guide you).

(7) Continue about 100 ft and turn right onto W. Patton St.

(8) Escapule's Ranch is directly on the left.

(9) Parking is behind the house on the right side.

(10) Registration is across from parking lot.