- TRESTLE BOARD -
---
- Historic Masonic Temple total loss after roof caves in -
- March 17, 2018 -
FAIRBANKS Alaska— After standing for 112 years — surviving fire, floods, earthquakes and snowloads — Fairbanks' historic Masonic Temple on First Avenue was undone by the winter of 2018.

Half of the roof collapsed to the second-story floor Saturday afternoon. By 10 PM, the building was demolished. Demolition crews managed to save the "1906" and "Masonic Temple" signs.

Originally constructed as the Tanana Commercial Company Store, the Masonic Temple, 809 First Ave., was built in 1906 and purchased by the Masonic Lodge two years later. The tin-pressed facade, perhaps the building's most notable element, was added in 1916. President Warren G. Harding spoke from the building's steps when he visited Fairbanks in 1923. In 1980, it was added to the National Register of Historic Places.
---

- The Best Club In The Zone -
Our regular meeting will be held on Friday, March 9th, 2018, and we will again meet at the Manda le Restaurant, 3455 Canyon De Flores Dr, (520) 803-9668 starting at 5 PM, order food at 4:30 PM. We are really happy to present a program on the Sierra Vista Animal Control presented by Supervisor Arleen Garcia. This has always been a very interesting program so come out and join the fellowship.

A reminder that the High Twelve cooking crew will cook up a great breakfast on Saturday, March 10th serving breakfast at 8:30 AM, all taking place at the Masonic Lodge in Sierra Vista and everyone is invited.

See ya there.
Andy Anderson - Secretary

---
The 24th Annual Masonic Widows Luncheon was hosted by the High Twelve Club on Saturday, February 17th and was a very big success with 46 folks in attendance and 13 Honored Ladies. Each Honored Lady had a Sponsor, received a goody bag with chocolate, special pens, a calendar and a pin cushion shaped like a heart on arrival along with roses and were escorted by a DeMolay Boy to her reserved seat.

A special program each Honored Lady talk briefly about herself and Mason Husband and this was really special for them. In addition, the SV Mayor Rick Mueller presented a talk on ongoing and upcoming projects throughout Sierra Vista area.

Sunrise Assy #39 Rainbow Girls and Cochise Chap #3053 DeMolay Boys were really a very big help with decorations, escorting and selling the 5-/50 tickets. Thank you Lady Pam Anderson owner of the Landmark Cafe for really taking care of us, Lady Pam turned the entire restaurant over to our event and we had two of our very special waitress Bonnie and Mel. A big

THANK YOU to the Sponsors for supporting this event. We'll do it again next year our 25th Annual Honored Ladies Luncheon.

Any questions or concerns contact the Club Pres Grant Hays (520) 227-7767 or the Club Secretary.

Thank you all for your continued support of the "Best High Twelve Club in Zone #2."

---
- Upcoming Events - Posted March 16th
Our April 13th, 2018, Club meeting will be held at the Manda Le Restaurant, order food at 4:30 PM, meeting starts at 5 PM. A very interesting program will be presented by Ms. Eileen Coulston, Executive Director of Elderly Care Matters with an opportunity for Q & A.

At our May 11th meeting we will recognize Masons of the Year from local Lodges. Remember to mark your calendars now.

On July 29th, 2018, we will conduct the 7th Annual Ice Cream social starting at 3 PM. All Masonic Widows will receive an invitation and the ice cream social will take place at the Masonic Center in Sierra Vista.

The Club Officers look forward to seeing everyone at the April 13th meeting, the food is excellent also.

Grant Hays - President
Andy Anderson - Secretary - mo1939@gmail.com


- Arizona High 12 Clubs -

Follow Our High 12 Club On Facebook
---

Hi All,

First and foremost I want to say THANK YOU to all the Brothers who were a part of the Masonic Funeral Assist Team during 2017, and before. The Team concept is the primary goal to ensure that ALL deceased Brothers have a funeral worthy and in recognition of their longevity and hard work to maintain the masonic principals. For 2017 we know of four Brothers and one Masonic Widow passed away. There were others and either there was no obit or funeral so some are not counted for the year.

To local Lodges and the Worshipful Masters for 2018 the Masonic Funeral Assist Team is available to assist the Lodge Officers in performing a Masonic Funeral or assisting with information and organizational procedures when requested. I can't stress enough how important it is to have an organized Masonic funeral in front of Family and Friends and to show all attending the funeral how we, as Masons, respect our deceased Brother. Worshipful Masters, in the early 2018 the Funeral Assist Team can provide training to all Lodge Officers and Brothers in a variety of subjects all related to Masonic Funerals and in addition we can provide hand-outs to those attending.

We especially invite all Ladies of the Masonic Family. This training can be one or three hours depending on interest and participation. A few of the subjects are; the Masonic Funeral, what to expect from the Lodge, the Masonic Sacred Scroll, the Masonic Widows program, Memorial services, Masonic funeral kit and Q&A. Now is a good time to inventory the lodges funeral kit to ensure that all the equipment needed is available, clean and ready to go and should include a AZ Grand Lodges Funeral Service.

Any requests or information contact Andy Anderson (520) 234-3225
or by E-mail: mo1939@gmail.com

Everyone, stay healthy in 2018.

If anyone is interested in becoming a Member of the Masonic Funeral Assist Team contact Andy Anderson, this includes a Brother from any Lodge.
---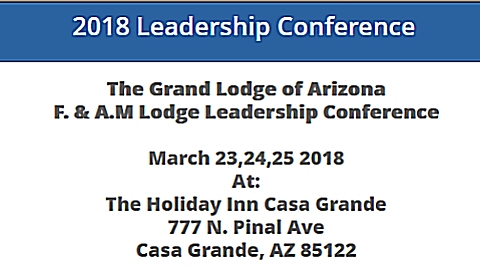 Click HERE for a Registration Form
---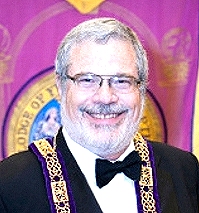 From The Grand Lecturer
We have an exciting year ahead of us! We will be conducting Schools of Instruction, and we will have a Grand Lodge Ritual Competition. We will continue to award Master Ritualist and Certified Lecturer designations.

Sincerely and Fraternally,
Ronald N. Allen
Worshipful Master 2018
San Pedro 55
Benson AZ
520-204-1902


---
2016

January

February

March

April

May

June

July

August

September

October

November

December